Discussion Starter
·
#1
·
Popular Mechanics posted their new review of the Polestar 1.
The Takeaway:
The first car from Volvo's sub-brand Polestar succeeds as a teaser for the company's next cars, and as an unusual future-classic. It's expensive and rare, but also sits near the top of the industry for design, driving feel, speed, and technology.
60 miles of all-electric driving is the most of any plug-in hybrid.
It's very heavy, but with enough torque and computing power to compensate.
Tiny back seats make it a two-person grand tourer.
SPECS
Price: $156,500
Layout: Front-engine, all-wheel drive plug-in hybrid
Engine: 2.0-liter turbo- and supercharged inline-4
Horsepower: 619 (combined electric and gas)
Torque: 738 lb-ft (combined)
Weight: 5,200 lbs. / 2,359 kg
Zero to 60: 4.2 seconds
Electric-only range: 52 miles/83 km (EPA estimated, though Polestar claims 60 miles/100 km)
Chevrolet has the Bolt. Jaguar, the i-Pace. Volkswagen, the ID.3. Ford has the Mustang Mach-E. To the list of major manufacturers building all-electric cars, add Polestar, which is releasing its first all-electric vehicle, the Polestar 2, later this year. But before that arrives, Polestar has built a teaser trailer, in the form of a bizarre coupe called the Polestar 1. We drove one of the only 1,500 examples that the company will produce, to get a sense of how its engineers' and designers' see the next generation of cars.

The 1 is first vehicle with "Polestar" as the named manufacturer, a brand half owned by Volvo and half by Volvo's Chinese parent company Geely. Think of Volvo as Toyota, and Polestar as Lexus, except instead of being more luxurious, Polestar cars run on electricity.

But, the 1 is a plug-in hybrid, with a turbo- and supercharged gasoline engine to accompany its batteries. It's also expensive, heavy, difficult to buy, and made by a company most people haven't heard of. On paper, it sounds like a tough sell. But in practice, on the road, the 1 makes sense, not just as a promotional tool for the Polestar 2, but as a demonstration of what a car should be in 2020.

Design
The 1 is probably the best-looking car we've seen in the last few years. There's a bit of the pre-war, long-hood shape, when designers borrowed lines from airplanes and trains to build designs like the Bugatti Type 57. The 1 also looks like something by Ian Callum, the brain behind masterpieces like the Aston Martin DB7 and Jaguar F-Type. Overall, the 1 isn't radical-looking, but it earns as much pedestrian and motorist attention as any Ferrari or McLaren. There's just nothing else on the road that looks like it.

We expected it to look good. Polestar's CEO, Thomas Ingenlath, guided the design of the 2015 Volvo XC90, the first example of the clean lines that would later define the rest of Volvo's beautiful lineup of sedans, wagons, and crossovers. Even though the 1 is based on a concept dating back to 2013, this final version looks like the future. A couple of decades from now, we'll know whether it has aged as well as the P1800.

Driving
We attempted to reserve judgment before actually driving, but there was one specific number that make us skeptical of whether the 1 would drive as good as it looks: its weight, 5,200 pounds (2,360 kg). For any car that's meant to be fun to drive, weight makes everything worse. (By comparison, the 1 is a couple hundred pounds more than a Tesla Model S P100D, and almost a thousand more than a Model 3). Even with a lightweight carbon fiber body, things like batteries, a combustion engine, and four leather seats add up to a lot of mass, even for an electric car.

Fortunately, like most modern luxury cars Polestar loaded the 1 with tools that do an uncannily good job of making you think the car is lighter than it is. Expensive Öhlins dampers keep the body flat through hard turns—you can even open the hood to manually adjust them. The brakes are built by Akebono, the same company that made the brakes on the McLaren P1.

The 1 also has a sophisticated torque vectoring system, which will preferentially send power to the left or right rear wheels as needed. That, unusually precise steering, and some wide Pirelli tires mean that, in defiance of its mass, the car went wherever we pointed it, every time.

Its straight-line acceleration will thrill anyone who hasn't floored a performance Tesla, or something with an engine in the middle of the car. We have, and could identify the milliseconds when the car pauses to swap between electricity and fuel. But it was subtle enough that we would not have noticed had we not been actively waiting for it.

It's worth mentioning that there are faster and less expensive ways to merge onto a highway. The 2020 Corvette with the Z51 performance package will hit 60 in sub-three seconds for under $70,000, less than half the price of the 1. And a Tesla Model 3 Performance will do it in 3.5 seconds for $56,190. But in real-life driving, where the 30-to-75 mph matters, the 1 is quick enough to upset passengers and dust BMW M cars. As was our experience over several days of testing, unless you're in Monaco or Dubai, the 1 will usually be the fastest car on a given stretch of road.

Interior Comfort
Along with on-demand fun from all that power, the interior helps place the 1 among the Bentleys and Aston Martins we'd choose to drive anywhere far fast. Same as all new Volvos, the 1's seats are the right balance of comfort and rigidity, and the screen that controls the music and climate is, except for occasional lag, intuitive. More generally, the interior is rightfully restrained, with buttons and switches kept to a minimum. It falls short of the Tesla Model 3 and Model Y's dramatic minimalism that we love and measure other interiors by. But compared to a Mercedes-AMG, Porsche, or BMW, we think the 1's cockpit is a smart array of usefulness.

Just don't plan on using the tiny back seats for anything except luggage. Which you might need, because most of the trunk is occupied by a cable aquarium.

The 1 comes with Volvo's Pilot Assist. You need to keep your hands on the wheel, but the car will automatically brake for pedestrians, keep itself in the middle of the lane, and slow and accelerate with traffic. Like Subaru's EyeSight, Volvo's system is a solid example of the car in 2020: You need to pay attention, but the bits of automation will make you less tired upon arrival than if you had to do everything yourself.

In the middle of a northeast summer, we wished for a shade for the glass roof, which made the interior an oven on sunny days. But otherwise, we had difficulty thinking of much else that would make the 1 more comfortable.

Hybrids Have Advantages
As of summer 2020, the Polestar 1 has the longest all-electric range of any plug-in hybrid, around 60 miles. Which is, in practical terms, much farther than most people in the United States drive each day, around 30 miles. A Level 2 plug, which you can find in some public garages, will refill the 1's batteries to full in about 4 hours. With some deliberateness and access to a charger at your office or home, you could go months without visiting a pump.

If you drive until all its gas and electricity is gone, the 1 will travel about 540 miles. That kind of range is the convenience that made the original Toyota Prius—and, we predict, the upcoming Totoya RAV4 Prime plug-in hybrid—so successful. With a plug-in, you can run on electricity for the majority of your driving. But if you want to go farther, refueling means minutes at the pump instead of hours recharging. At a time when most drivers still expect to drive when and where they want, while environmentally consequential, being able to rely on fuel still has appeal.

The Next One is All Electric
EVs from established manufacturers (GM, Audi, Jaguar) have been mostly excellent. But it's tough to convince the percentage of electric car buyers to not choose a Tesla. Chevrolet sold just 16,418 Bolts last year. Audi's E-Tron has done slightly better, selling about 17,500 models from January to October 2019. And Jaguar is selling about half as many I-Paces as it had forecast. Tesla, meanwhile, sold 192,250 cars in the United States in 2019.

But the forthcoming all-electric $61,000 Polestar 2 doesn't have to outsell or "beat" the Tesla Model 3. If the 2 has enough of what make the Polestar 1 so compelling, it will be an encouraging indication that in the near future, we'll see more cars that are expressive, strange, and capable of delighting the human driving them.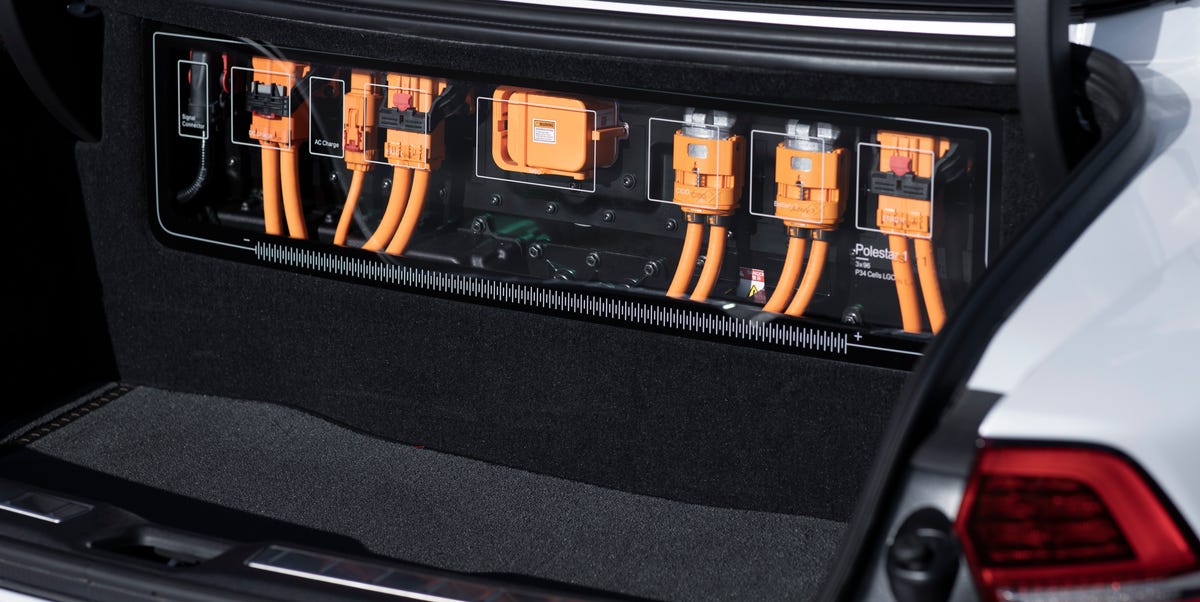 The Polestar 1 is a living, breathing demonstration of how Volvo's sub-brand will build its electric cars. Here's what we learned driving it.
www.popularmechanics.com